We are pleased to offer three unique spaces for your enjoyment. Each room has been handcrafted, with thoughtful attention to both ambiance and function.
Valhalla Suite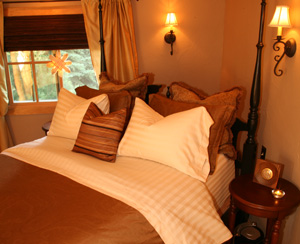 The largest room, which historically rents first, is our luxurious and spacious Valhalla Suite. Our goal was to create a space which is decidedly different from any other luxury suite you might have previously experienced. We believe we achieved that by using soothing earth tones; deliciously soft linens; heated travertine floors in the on-suite bath; and natural appointments that add texture and a definite reminder that you are staying in a European Country Inn.
The Little Cottage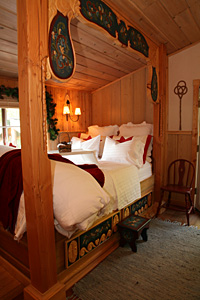 Our other two rooms are basically each the same size as the other, but differ greatly in the way they "feel." 
The Little Cottage (Lile Stuga) is very cozy, enclosed with warm, honey toned paneling and authentic Norwegian rosemale painting.  The (queen-sized) hand carved bed is a replica of those we saw in the farmhouses in Norway and Sweden.  It is perched high and tucked snuggly under the eaves.  You can see the fireplace from the bed, and can watch the snow falling or the birds singing out the window included in the bed area. The bed is dressed mainly in white, and is very romantic.  The room has a private entrance and deck for morning coffee and spotting the abundant wildlife that passes through the property.
The Birch Treehouse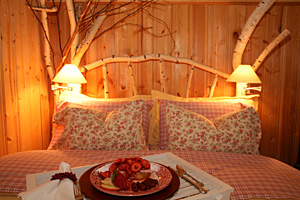 The Birch Treehouse (Bjerke Stuga) has higher ceilings, lots of natural light streaming in its many windows, and honey toned pine paneling.  Just walking in the room will bring a smile to your face!  The (queen sized) bed is made with white birch logs (a very common tree in Scandinavia) and incorporated into the headboard is an actual birch tree.  The branches of this tree touch the high ceiling and bend gently over the bed to create a natural canopy.  The bed is dressed in a happy mixture of yellows, greens and cranberry.  It also has a fireplace, and charming private deck and entrance.