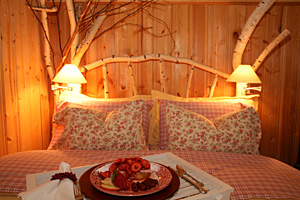 The hand crafted, queen sized, white birch log bed, complete with its own natural canopy of branches will feel as though you've realized your childhood fantasy of living in a treehouse in the woods! This treehouse is complete with a cozy fire to enjoy on a cool evening. Its private deck is yours to enjoy just about any time! A private bath and sink area in the room are among its many amenities.
Your private entrance takes you to the hot tub, pool or your car.
Cancellation Policy: Because we are a small inn, cancellations significantly affect us. If you must postpone your visit, reach us by phone, not email, 14 days prior to your intended stay to avoid charges. Allow 30 days for holidays and festivals. A cancellation fee will be charged. However, if your reservation is less than 14/30 days away, you will be responsible for any nights which are not resold.