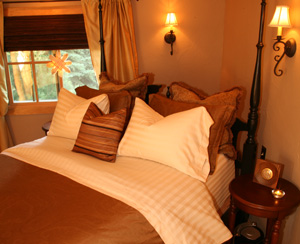 In the days of the Vikings, Valhalla was considered to be as nearly perfect a place as Heaven. Our Valhalla Suite, rich in craftmanship and attention to detail, is heavenly!
The nature-inspired colors, textures, and fabrics, reminiscent of a European villa, will sooth your senses. Valhalla offers the ultimate in luxury, including a divinely comfortable queen-sized bed; two private decks which command the best views of the magnificent Enchantment Mountain Range; a private entrance; a stone fireplace and sitting area; and an on-suite bath with two person shower and jetted tub.
Keeping in mind your desire for ultimate relaxation, we have created a very unique space of luxury and tranquility. This will be an experience unlike any other.
(click a photo below to see a larger version)
Cancellation Policy: Because we are a small inn, cancellations significantly affect us. If you must postpone your visit, reach us by phone, not email, 14 days prior to your intended stay to avoid charges. Allow 30 days for holidays and festivals. A cancellation fee will be charged. However, if your reservation is less than 14/30 days away, you will be responsible for any nights which are not resold.