Your Hosts and Innkeepers are Vern and Linny Jones.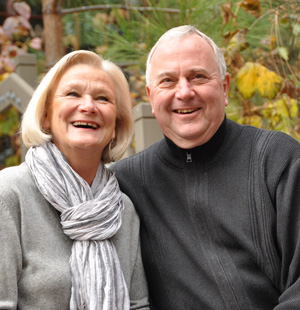 Vern is an artistic, creative craftsman who has designed and built the entire area you will be enjoying. Literally, there isn't anything Vern can't do! He is a gourmet cook who will delight your palette and eyes with his breakfasts. In his spare time he cycles; hikes; skis; races cars; flies airplanes; spends time with his 5 grandchildren; and teaches high school art!
Linny is an outgoing, friendly lady who loves people and will instantly make you feel right at home! She has traded her teaching career for her life as a full time innkeeper. It is her sense of color and style that fills their inn with warmth.   When she is not inn-keeping she trains for marathons; hikes in the mountains; skis; and spends time with her 5 beautiful grandchildren and their amazing parents.s, as well as many, many, many projects both inside and out.  We thrive on creating fresh, esthetically pleasing spaces for our guests.  There is no end to our wish list of new ideas!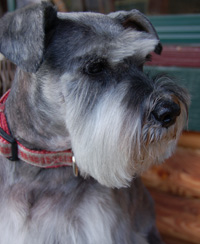 LUCY!
You won't be on the property long before you meet our miniature Schnauzer, Lucy!  We tell our guests that she believes SHE owns the inn, and we all are just fortunate to get to stay here!  If she protests your arrival, it will be short-lived.  She too is very accustomed to sharing her surroundings.
Lucy is a long-time family member who doesn't hear so well anymore, but loves a gentle scratch behind the ears.   Knowing that the day will surely come when we have to say goodbye to her, we aren't sure who will be more sad—our guests or us.  She has won the hearts of many!  Our guestbook gives testimony to that!