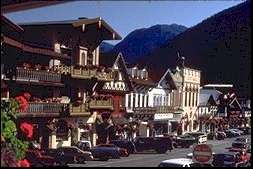 You're in for a treat in Leavenworth any season of the year! We are blessed to live in an area rich in outdoor adventures, cultural events, unique shopping opportunities and fine dining.
There are fun activities for the whole family at any time of the year.  A complete listing of all that Leavenworth has to offer is included in the Leavenworth website.  www.leavenworth.org
Having lived in the valley for 30 years, we have developed our favorite businesses to recommend to you. 

Icicle Ridge Winery
At the top of the list is Icicle Ridge Winery!  Not only do they make award winning wines, but they employ the friendliest staff anywhere!  From the helpful voice on the phone; to the host of knowledgeable tasting room personnel; to the friendly cellar workers who will greet you when you arrive, carry wine to your car, and give you a tour of the cellar---you won't be disappointed!  Be prepared to meet the winemaker, Don Wood, who doesn't know a stranger, and the founder of the winery, Lou Wagoner.  Both men are on the grounds daily, and love to remind you that you have truly "come home" when you are at Icicle Ridge Winery!
Their beautiful website lists events at the winery you won't want to miss!  Included is an opportunity to attend jazz concerts at the winery while staying at Scandinavian Escape; or attending The Sound of Music (Thank you Icicle Ridge Winery for providing VIP seating!) and lodging at Scandinavian Escape. Our website lists all the details under the "Packages" tab.   But don't miss a peek at this website!   www.icicleridgewinery.com

Der Sportsmann
Located in the middle of Front Street, in Leavenworth, Der Sportsmann is not only a retail store for all your outdoor adventures, but they are also outfitters for equipment you might need to enjoy your chosen activity.  They love to hear about your adventures, and are very knowledgeable in fitting you to any gear you might require.  Call them at: 509-548-5623

Leavenworth Summer Theatre
From mid June to early September, Leavenworth Summer Theatre runs three first rate live performances in two unique outdoor locations and one indoor location.  Also in December, they present Dickens', "Christmas Carol." Scandinavian Escape and Icicle Ridge Winery are offering a lodging, wine and live theatre package for your enjoyment.  Go to the "Packages" tab on our Home Page to read the exciting details!
www.icicleridgewinery.com 
www.leavenworthsummertheater.org